Huzur Machine developed magic Regafil machine to better produce for slender, soft, harmonious fancy effect and too much economical.
Regafil runs with system of pierced spindle and ringed spindle. Fancy yarn can be produced from yarn and fiber. It can be adjusted with 10 varied times and 10 varied speed in order to produce yarns such as nope,shantique and flam. Vacuum canal is standart. Pierced and ringed spindles are rotared with tangential belt.
---
Control Panel
The machine has full electronic control. All of settings are made by operation panel. When the machine runs, hollow spindles and ringed spindles, all shafts and Ring frame can be easily controlled with simple hand motion without any production lose thanks to Digital Control Panel. The Fancy yarn producers have infinity possibility for choosing of design. However, the most important characteristic of Regafil to be simple programmable and reliable quality effect. Regulation type of yarn is registered on memory and it can call again when it is wanted to produce same effect yarn.
Fantezi iplik üreticilerini, desen seçiminde sınırsız olanaklar beklemektedir. Aynı zamanda kolay programlanabilir olması ve güvenceli efekt kalitesi vermesi en önemli özelliğidir. Ayarlanan iplik çeşitleri ekranın hafızasında saklanabilir. İstenildiğinde programdan çağrılarak, aynı efekt iplik üretilebilir.
---
Spindles
Front twist of yarn is taken from Hollow spindle and then it is twisted by ringed spindle. In the Regafıl produced Fancy yarn is used in many sectors, from weaving for appeal to knitwear, furnishing fabrics and curtains.
---
Ring Frame and Rings
Rings have diameters with 115 mm (special order 127 mm) Lubrication system has single canal. There are yarn guides in order to wrap properly in accordance with the movement of the Ring Frame. Bobin height is 450 mm.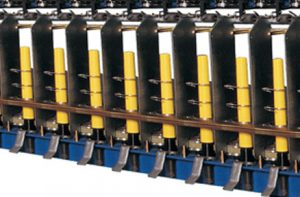 ---
Transmission System
Pressure arms,shaft, hollow spindle, separators and ringed spindle. Simple transmisson system has easy use, lower noise and maintanance cost. Also thanks to automatic winding to the lowest point when the bobin is complete, the machine provides high efficiency in the next process.
---
Advanced Features
Regafil is designed according to innovation,developing technology and in order to meet the demand of effect yarn twist. The machine present to you more advantages with too much kind of developer programs.
It is possible to produce thinner, soft and harmonious fancy effect yarn with high production performance as more economical. The machine runs rapidly without any problem thanks to modern electric equipment. Produced yarns looks like soft and homogenous.
---
Creel System and Technical Specifications
Creel feed located beside the machine. It designed to work easily Fiber and Yarn bobbins.

Technical Specifications
MODEL : REGAFIL FANCY YARN MACHINE
GAUGE : 180 mm
RING DIAMETER : 115-127 mm
BOBBIN HEIGHT : 450 mm
MAXIMUM SPINDLE SPEED : 7.500 rpm
MAXIMUM HOLLOW SPINDLE SPEED : 20.000 rpm
MAXIMUM PRODUCTION SPEED : 15 mt / dak.
SPINDLE PER SECTION : 8
MAXIMUM SPINDLE NUMBER : 96