The vast experience of Huzur in the construction of Fancy Yarn Machines, as well as the latest developments in the fields of electronic devices have enabled the company to design Electronic Fancy Chenille Yarn Machine for the production of chenille yarn with high technological content. By this machine chenille yarn can produced form acrylic, cotton, viscose, polyester, polypropylene easily. One of most important features of SL-2005 is it possible to produce chenille yarns with slub effects, knots or irregular sections in addition to normal chenille yarns according to requested program.
---
The Advantage Of Electronic Chenille Yarn Machine Accordıng To Mecanic Chenille Yarn Machines
Slub Chenille Yarn Production: It is possible to produce chenille yarns with slub and flam effects; it means different effects on the same line with introduction of the requested values step by step to enter touch screen program.
Low Energy Consumption: Thanks to technical and electronic specifications of the machine power consumption %48 less than Mechanic machines and this situation reduce yarn production cost.
High Quality: All the yarn parameters are control from single central control panel. The spindles, the effect heads, and the rollers are controlled by the tangential belts which are independently driven by the motors placed in the headstock. This system provides a uniform product of high quality on every spindle.
Time Saving: The programs can be memorized on the screen and therefore when want to produce same yarn in the future time, it can adjust easily. When want to change yarn numbers on the Mechanic Machines, the adjustment can realize from belts and pulley and it's take 3-4 hours to finish process. On the other hand same adjustment can realize 1 minute on the Electronic Machine. This situation provides maximum time advantage.
More Production: New special software programs allows to adjust machine speed according to ring rail position in order to provide uniform yarn tension and it reduce yarn breakages and defects caused by tension irregularities from the beginning to end of package process. For this reason while the production amount increases the wastes decrease.
Low Maintenance: Mechanic machine has one motor every heads and it has hundreds belts, bearings, shafts, pulleys. SL-2005 Electronic Fancy Chenille Yarn Machine removes over %30 of these parts which needs to maintenance every time. Therefore it's running lower vibration and noise and its maintenance time and cost lowest.
---
Control Panel
Chenille yarn production realized from Control Panel on this machine. According to requested values it possible to produce chenille yarn with slub effects thanks to the touch-screen of the programmer in addition to normal chenille yarn. It gives 8 different effects during 1 meter. The programs can be memorized for future use.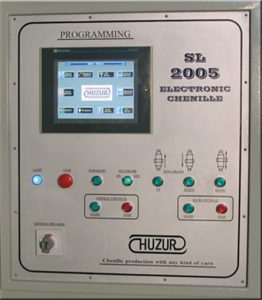 ---
Yarn Displacement Unit / Yarn Break Switch
It's designed to avoid wearing the muffs. Base yarns move as transverse in order to hinder corrosion of rubber. So base yarns to continue move on same tension.
Yarn Break Switches are controlled to prevent defective production. When yarn snaps,
---
Transmission System
Spindles speed, effect heads speed, production speed with