Şenil iplik aktarımı için geliştirilmiş olan bu makine, tüm fantezi iplikler için rahatlıkla kullanılabilir. Hız, çok yönlülük, sessiz çalışma hızı, yüksek üretim, güvenilirlik, ergonomik ve estetik dizaynı, bir ileri teknoloji ürünü olan FSM Yumuşak Sarım Aktarma Makinesinin büyük kolaylık sağlayan bazı özellikleridir. Kullanıcının üretim ve final sarımında, tüm ihtiyaçlarını karşılayacak niteliktedir. Silindirik veya konik bobinlere sarım imkanı sunar. Farklı özelliklerdeki sarım ayarları kısa zamanda yapılır. Yumuşak, düzgün ve homojen sarım, üretimi düşürmeden sağlanır.
---
Yarn Feeding Drum
Her kafada iki adet besleme tamburu bulunur. Bu tamburlardan ipliği ne kadar fazla dolandırırsak sarılan iplik o kadar yumuşak olur. Numaratör ayarlı yaylı tansiyon sistemi sayesinde bütün kafalarda aynı tansiyonu ayarlamak mümkündür.
İsteğe göre İplik Besleme tamburunun yönü kafanın sol tarafında olabilir.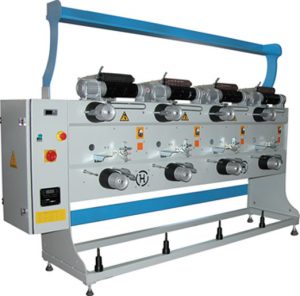 İsteğe göre İplik Besleme tamburunun yönü kafanın sağ tarafında olabilir.
---
Speed Control System and Digital Panel
Digital Panel and Speed Control System are Standard on the machine. The proper winding is taken under control by the electronic circuit.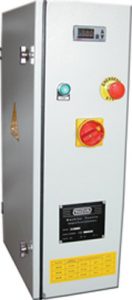 ---
Sensitive Sensor
When yarn breaking or bobin finished the head stop automatically thanks to sensitive sensor. In case it's prevent defective yarn winding.
---
Mechanic Scissors System
It is possible to catch wrong knots on yarn thanks to Mechanic Scissors System. So it's hinder to defective yarn production.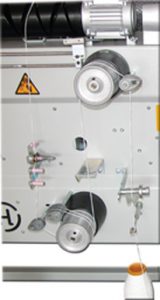 ---
Digital Meter Counter
Digital Meter Counter is fixed yarn amount of all bobbins. Thanks to this advantage all bobbins are equal amount.
---
Protection Covers
Main Electrical Panel and Back Electric Covers designed according to easy opening and closing shape and to obstruct enter dust.
---
Technical Specifications
WINDING TYPE : Conical and Parallel
WINDING LENGTH : According to request 6″ – 8″ – 10″ inches
WINDING SPEED : 1000 meter/minute
INVERTER : 1 piece for 4 heads
MOTOR : 2800 rpm, 0.09 Kw. For each head
TRAVERSE MOVING : Driven form motor mile
PACKAGE STOP : Mechanic adjustable magnetic switch
RADIAL ANTI PATT.SYSTEM : Electronic adjustment
YARN SENSOR : 1 piece for each head
YARN TENSION : Numarator adjustment spring system for each head
FEEDING DRUM : 1 piece for each head
OPTICAL APPARATUS : Her kafa için 1 adet
WAXING MOTOR : 1 piece for each head as optional
METER COUNTER : 1 piece for each head as optional