The vast experience of Huzur in the construction of Cheniile Yarn Machines, as well as the latest developments in the fields of electronics and electropneumatic devices have enabled the company to design a machine for the production of chenille yarn with high technological content. SL-2003 requires minumum maintanace, in fact, unlike most of the machines of this type that normally require rather than extensive maintanance, while producing yarn at the industrial level. One of most important features of SL-2003 is cutting easily yarns such as acrylic, viscose, cutton, polyester, polyroplone, thanks to constant quality that comes with rotary blade.
---
Control Panel
First Head's feeding rotor(rpm), yarn output rate (m/min), spindle rotor (rpm), tackle movement are seen digitally. Tackle parameters can be adjusted easily according to desired values thanks to touchtable screen.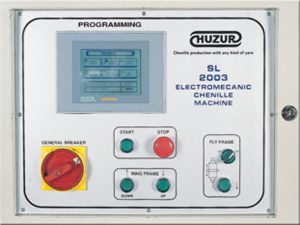 ---
Tackles and Rings
Rings have diameters with 115 mm (special order 127 mm) Lubrication system has single canal. There are yarn guides in order to wrap properly in accordance with the movement of the tackle. Bobbin height is 450 mm.
---
High Speed Head and Blade System
With it's special design, this head system allows you to make adjusment on drivers and anti drivers. There is no need to stop the machine while doing this operation. Silent operation and reduced vibration are achieved by the help of this new designed head system. Thank to Blade Oiling System when hard yarn is cutted like viscone, polyster, cutton, polyroplone the blade was hidered to deform.
The Blade Group designed as sliding to right and left side in order to easy use of 0.2 mm – 1 mm Blades.
---
Yarn Displacement Unit / Yarn Break Switch
It's designed to avoid wearing the muffs. Base yarns move as transverse in order to hinder corrosion of rubber. So base yarns to continue move on same tension.
Yarn Break Switches are controlled to prevent defective production. When yarn snaps, these switches stop running of the head automatically.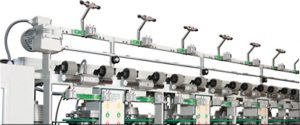 ---
Creel Feed and Technical Specifications
Creel feed located beside the machine, designed to hold 2 cones for base yarns and 2 cones for effect yarns with a breaking system for each spindle.
Technical Specifications
MODEL : SL-2003 ELECTOMECANIC CHENILLE YARN MACHINE
GAUGE : 180 mm
SPINDLE NUMBER PER SECTION : 8
MAKSİMUM İĞ SAYISI : 120
RING DIAMETER : 115-127 mm
TUBE HEIGHT : 450 mm
TOTAL POWER : 33 Kw.
MAXIMUM SPINDLE SPEED : 7.500 rpm
MAXIMUM EFFECT HEAD SPEED : 20.000 rpm
MAXIMUM YARN PRODUCTION SPEED : 15 mt. / min.
YARN PRODUCTION RANGE : 1 Nm – 8 Nm
---
Optional Accessories
Razor Blade System
The machine is running with Rotary Blade system. But if demand it can work with Razor Blade or Rotary Blade thanks to this apparatus. Apparatus can mount easily over the machine and replace Rotary Blade.
Sharpaner
This device offers the ability to grind the rotary blades while the machine is running. It is easy mount and operates. It runs manually with 5 atm high pressure air.
Front Cleaning System
Cleaning System runs on a track parallel to the machine at the speed of 14 meters/minute, remove the dust keeping all the parts perfectly clean. It brings to the blowing nozzles very close to drafting equipment, cutters and spindles, in order to keep this area clean from fiber fly and waste. The small design of the unit leaves enough space for the operators. It is increased machine efficiency; there are notably fewer yarns breaks. It is improved products quality so no deposits on the yarn. Power consumption is lower.
Over Travelling Cleaner System
Over Travelling Cleaner System runs over the machine and creel system on a track to parallel to Chenille Machine. On the front of the machine the unit clean to yarns and yarn guides of creel system. On the back of the machine the unit clean to moving parts which place to behind of Chenille Machine. On the up of the machine the unit cleans to yarns which come to machine from creel system. In addition two floor suction nozzles clean the floor around of the machine and its collect wastes in the box automatically. The operator discharge wastes periodically.