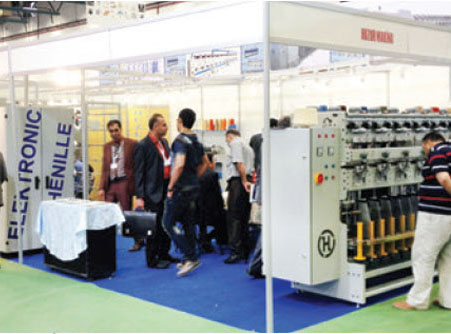 ITM-2013 Exhibition Has Met The Expectations Of Huzur Machine
Having been producing Şenil Yarn Machines for 17 years, Huzur Makina operates with more than 100.000 spindles in local and international markets.
Firman's machines continue to export regularly to Brazil, Mexico, Indonesia, India, Pakistan, Iran, Syria, Egypt, Lebanon, Saudi Arabia, Russia and Italy. Levent Yilmaz, General Manager of Huzur Makina, stated that they participated in ITM Texpo Fairs because they are the only textile machines organized in our country. They said that they joined the furos with the aim of introducing our products to domestic and foreign visitors and maintaining our contact with our existing customers. Evaluating the fair Yilmaz, said:
"According to the fairs organized in previous years in general, the fair has been diminished in terms of domestic visitors, and has attracted visitors, especially from neighboring countries. SL-2005 Electronic Fantasy Chenille Spinning Machine, SL-2003 Electromechanical Rotary Blade Chenille Spinning Machine, SL-2006 Chenille Chenille Spinning Machine, FSM Soft Spin Transfer Machine, BBY Spin Transfer Machine, KTM Spinning Machine, BKM Yarn Spinning Machine, Machine and Travel Cleaner Systems. Our expectation from Fuer was to find new customers and to strengthen our relationships with our existing customers.
However, the visitor profile of the fair did not have a variety compared to previous years. So, in general, we tried to introduce our innovations in our products by coexisting with our old customers. The most important advantage that the fair provided us was that within four days we did not get the opportunity to meet with a majority of our customers from neighboring countries. We received positive feedback from our customers due to the high interest in our products. So in this respect we can say that the fair meets our expectation. On the other hand, it is also clear that the fair is generally weak in terms of variety and quality in terms of both domestic and foreign visitors, regardless of our company. In this respect, it will be more appropriate to make the fair at intervals of 3 or 4 years. "
Source: www.tekstilteknik.com.tr